Pocket Option Thailand Review
The Pocket Option Review Thailand
In this Pocket Option Review Thailand, we will highlight the details about the company and the Pocket Option platform. Then, inform you about the trading conditions, deposits, withdrawals, and support. Finally, we have examined the Pocket Option in detail, with more than nine years of experience in financial markets in investment and review. But is it worth investing in Pocket Option Thailand? – Find out in the following sections.
What Is Pocket Option online trading platform?
Pocket Option is an online broker for forex trading and binary options trading in Thailand. You access over 100 different resources through web platforms, mobile apps, or MetaTrader 5 software. "The Pocket Option" is operated by Gembell Limited Company, located in the Marshall Islands, including Trust Company Complex, Ajeltek Road, Ajeltek Island, and Majuro. The registration number is 86967. From our experience, it is reputed offshore broker to invest in a variety of markets.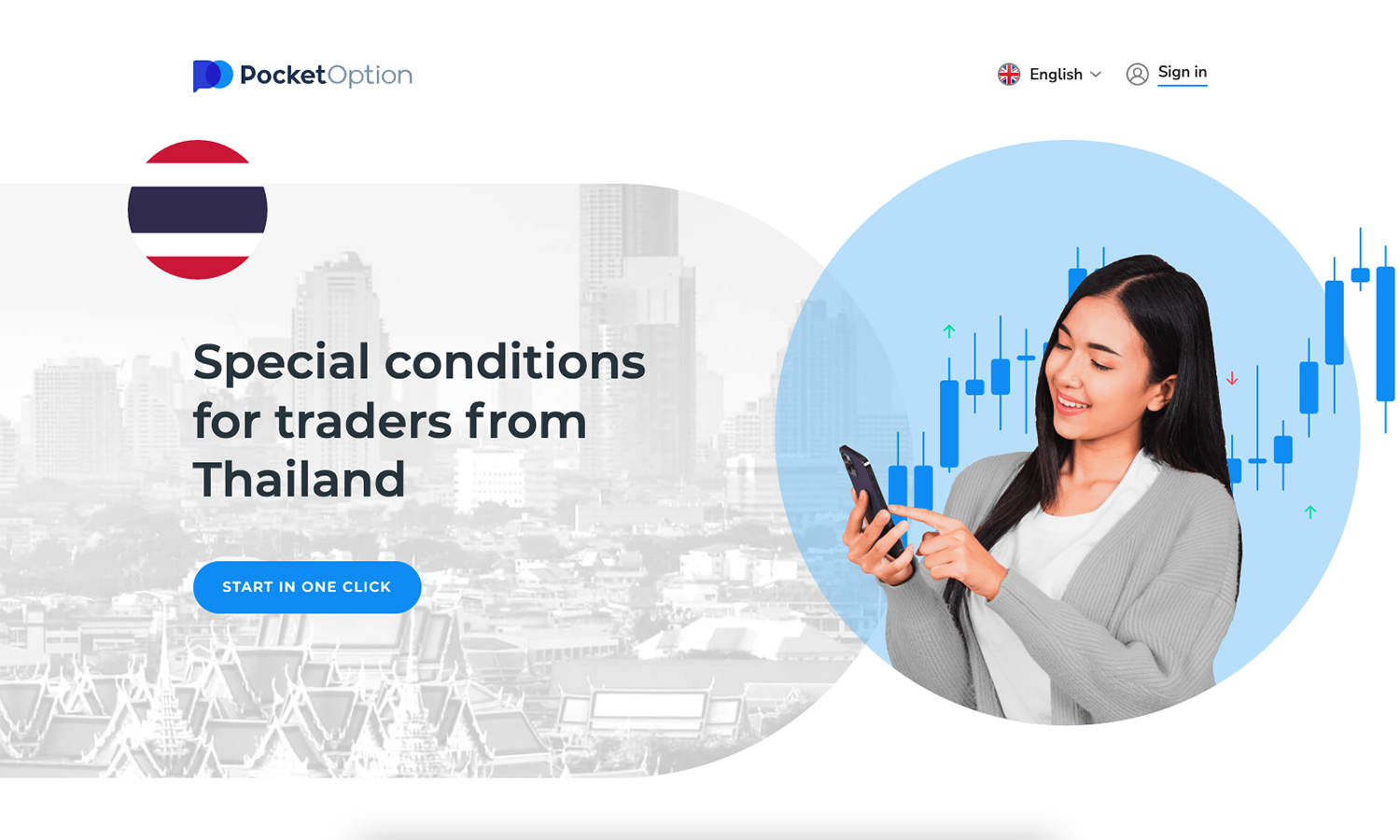 Brokers attract many traders worldwide and accept them internationally. Almost everyone can open a trading account with pocket options. The trading company has existed since 2017, and our research shows that its popularity is growing. You can simply trade binary options on a modern trading platform with a very high return of up to 95%. Also, many special features make the broker unique.
Facts about the trading company:
Online broker since 2017
 Located on the Marshall Islands
Accepts international traders
Accepted in more than 95 countries
Trade the financial markets with Binary Options Trading and Forex/CFDs
More than 20,000 active users daily
Multi platforms for any device
Pocket Option Thailand Review – Is Pocket Option a scam or not?
For online investing, it is essential to use a regulated broker in Thailand. It shows confidence and security. However, most regulations cost a lot of maintenance fees. According to the Pocket Option, the broker is regulated by the IFMRRC (International Financial Market Relations Regulation Center). It is an independent regulator, and it accepts online brokerage firms. The company has to fulfill various conditions to get the certificate.
The FMRRC is not a Government Regulator of any country like, CySEC in Cyprus or ASIC in Australia. Through our contacts, we know that Pocket Options is working on a higher control at the moment to register under better regulatory authority. Also, the platform is very secure and has got various security tools like 2-factor-authentication and SSL certificates for your trading account.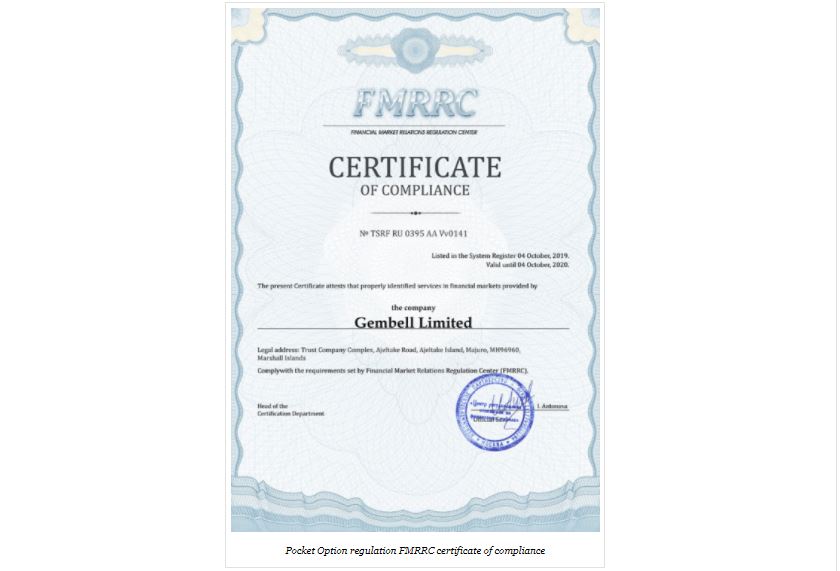 The platform uses only safe and secure payment methods and accesses the funds at any time. Overall, Pocket Options in Thailand is a secure company but does not have the highest controlling authority at the moment.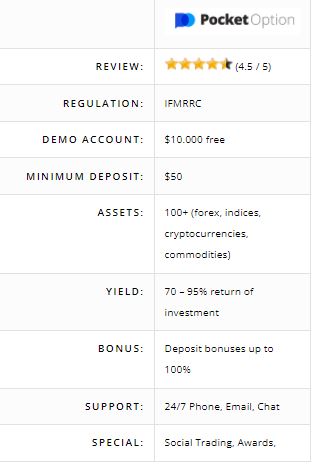 Pocket Option Review Thailand – What can you trade with Pocket Option?
Traders in Thailand gain access to currencies, cryptocurrencies, commodities, and stocks on the platform. In addition, financial products are offered to trade Binary Options (options) and Digital Options with a high yield of up to 95%. Compared to other brokers, this is a very high return on investment in this particular niche. You can trade 24/7 on the online trading platform. Cryptocurrency and OTC charts are available 24 hours per day.
The following assets can be traded with the online Pocket Option:
Currencies
Indices
Commodities
Stocks
Cryptocurrencies
Pocket Option Thailand – Trading Assets Available
Binary Options can be traded with varying experience from 1 minute to 4 hours or more. Short-term and long-term users or traders will feel comfortable with assets and expiration offers. However, if you go to the menu, you will see different resources and yields.
Newcomers can use the free demo account with a balance of $ 1000. It is suitable for testing a practice account and platform with virtual money. Also, you can renew the free demo account if you make a loss. So this is an unlimited and free account. You don't have to sign up for it. Actual money trading is available with a small deposit of $ 10, and the minimum amount of investment is $ 1 per trade.
Pocket Options not only offers trading options but also offers Forex trading through MetaTrader 5 software. This software is available for download on the Pocket Option website. You can download it for free. Pocket Option App – Pocket Option iOS App, Pocket Option Android App.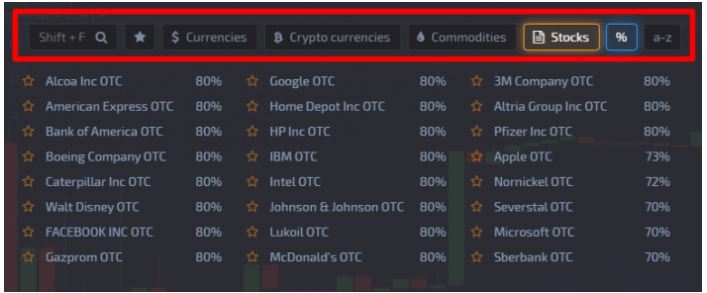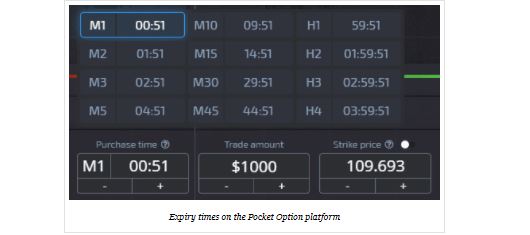 Another good feature is the bonus options and higher profits. Now you can get up to a 100% free bonus if you agree to increase your deposit and account balance. Achievements are free things if you make actual money transactions. If you trade, you can get more boost and bonus access.
Social trading and competition are also available on Pocket Option platform. You can follow other popular and successful traders. You can copy them automatically. Tournaments are created with a free demo account or a real money account. If you are a good trader, earn high value. In short, Pocket offers the perfect terms and features for alternative traders.
Summary of the conditions and features:
More than 100 assets (currencies, stocks,  crypto, commodities)
Yield up to 95%+
Free demo account
A minimum deposit of $50
Forex trading via the MetaTrader 5
Free bonus program
Awards and achievements
Social trading and contests
THE POCKET OPTION ONLINE TRADING PLATFORM REVIEW:
Pocket Options offers a trading platform for any device. You can access web platforms; Download version, MetaTrader 5, and the mobile trading app. The software is programmed by Pocket Options and is unique. In the following sections, we will show you the features of the platform and how to trade.
The following platforms are available:
Web-version
Download version
Mobile apps
Telegram Bot
MetaTrader 5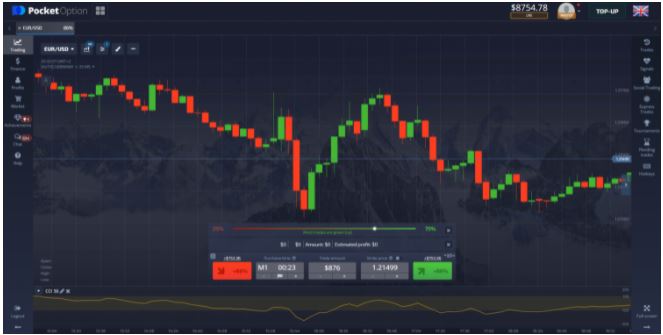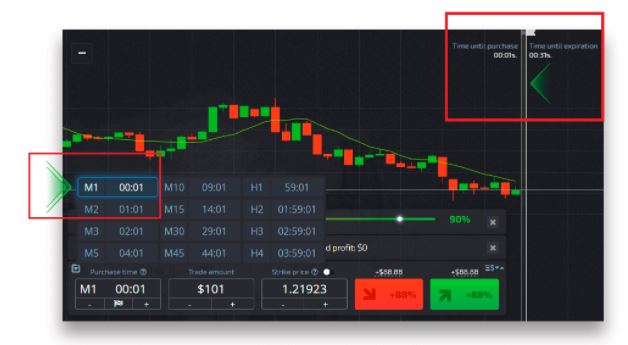 The web platform is the easiest way to trade
On the web platform, you will get an excellent overview of trading resources. After all, it is a clear and user-friendly trading platform. Therefore, newcomers should feel comfortable with it within minutes. Also, you can read tutorials or watch some introductory videos on the platform.
Facts about the web online trading platform:
Available for any kind of device (Computer and mobile device)
User-friendly and safe/secure for trading
Clear and professional charting
Free analysis tools
A good overview of all tools
Multi-charting is possible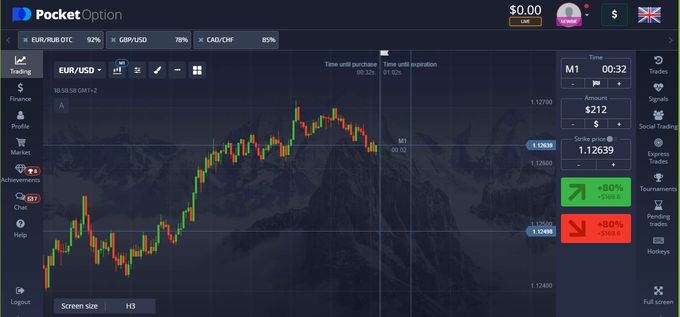 In the image above, you can see a screenshot of the trading platform in an online browser. On the left, you can see the options about your profile and trading account. For example, you can access Live Trading, Demo Trading, Profiles, Acquisitions, Chat and Help Center. Also, you can switch between Real Money and Demo Trading with one click.
Below, in the middle, is a trading order mask. Again, it is easy to understand how to trade because the pocket option makes you see all the features very clearly.
MetaTrader 5 review
Since 2020 MetaTrader 5 has been offered by Pocket Options for Forex, Cryptocurrency, Metals, and Commodity Trading. MetaTrader 5 is very popular and is supplied by about 80% of brokers worldwide. The trading platform is suitable for technical analysis and automated trading. In addition, you will have the best opportunity to customize the chart and add tools for further analysis.
You can use the web version directly with Pocket Options Web Trader or download the desktop software. Also, the mobile app is available for any device. Overall, MetaTrader 5 Pocket Options offers more functions for analysis than its platform. However, from our experience, it can be difficult for beginners to feel comfortable with MetaTrader 5 at first. Therefore, you should watch the tutorial for this software.
MetaTrader 5 supports the following functions:
Multi-charting
One-click trading
Indicators
Drawing tools
Multiple timeframes
Automated trading
Customize the platform as you want
News and alarms
Tutorial: How to trade with Pocket Option in Thailand?
Trading with pocket options in Thailand is not that difficult. With trading options, you only have two possible outcomes (win or lose), or you will get your money back when the trading market is not moving. As a trader, you need to predict market value. Pocket Option's trading platform offers you specialized tools for analysis such as chart types, drawing tools, and indicators. Also, you can apply market news to your research.
How do you trade step by step?
Select  your asset and generate a trading idea
Make a forecast of the price
Select the purchase time
Do Invest in rising or falling prices
Wait until the option is finished
Win a higher return of investment (up to 95%) or lose the investment amount
Analysis and charting for some successful online traders in Thailand
To accurately predict price movement, you need to analyze the chart accurately. Many traders are using technical analysis or real news. On the trading platform, you will find different chart settings.
There are more than five different types of charts and more than 14 timelines for analysis. Candlesticks are the most famous chart type because they give you more information than any other chart type. Also, you can use different indicators and drawing tools next to the chart.
There are more than 40 different types of indicators for analysis. Pocket Options will show you a complete tutorial and a description of the tools. This is a significant advantage for beginners. You can customize the settings of each tool as you wish. Create your strategy for trading through pocket options.
Social Trading and signals for Thailand Traders:
For those traders who do not want to analyze them, social business and signals are available. Social trading means you copy another successful trader. On the trading platform, you will see other traders who are doing business with real money. You can see all their deals, like profitable deals and trading deals. Overall, it's very transparent, and you'll find a good trader very quickly.
This is an easy way to gain automation. There are lots of different settings. For example, you can choose the amount of your investment and the amount of maximum loss when copying traders. In addition, signals are available on the platform for any asset. They are made from different trading techniques. In conclusion, the Pocket Options Platform gives access to features that any trader can use successfully.
Achievements and awards for active traders
Pocket Options will reward you if you are an active trader. Once you are fully registered, you will receive your first credit (see image below). What can you do with "gems"? If you actively trade, you will earn "gems" on the platform. In this market, you can exchange them for different prizes.
In the market, there are options to buy with gems. For example, you can purchase the following benefits for your trading account:
Bonus codes up to 110%
Free account balance bonus
Risk-free trades
Cashback trades
Boosters for more yield
VIP Tickets
Bots
All in all, this is a perfect system for any trader who is using pocket options. The broker is making money by your trading volume. If you trade, you will gain more. So this is a very fair deal for traders and brokers.
The final conclusion of the trading platforms
From our experience, Platform Pocket Options is one of the best trading platforms on the Internet. In addition, the broker supports the well-known Meta Trader 5. As a result, it's very efficient, and you get access to various tools and functions. For example, there are free indicators for analysis, charting can be done professionally, and you can simply use signals or social trading.
The online trading platform is available for any device, and we give it an excellent rating. Furthermore, we can say that we recommend trying the platform with a free demo account. You will find that there are more advantages than other trading platforms.
Advantages of the trading platform:
Professional charting
Free tools for analysis
Social trading and signals
Comfortable and easy to use
Customizable tools for everyone
Platforms are available for any device
Meta Trader 5 supported
How to open your trading account
You need to sign up with your email address and a secure password to open your real trading account. However, to trade with a demo account, you do not need to sign up. Instead, you can check out the free platform.
The first step is to enter your email address and secure password. After that, you need to confirm your email address and phone number. We recommend that you first verify your trading account for actual money transactions, but you do not have to. It's just safe. Go to your profile and fill out the form with your personal data. Then, upload a photo of an identity document to get the complete verification of your account. The Pocket option is high-speed and verifies your account within 24 hours. Now you can start a real-money business and use all the features of the platform.
How to open your account?
Register your account in the form above
Use your email address and a secure password
Confirm your email address and phone number
Fulfill your account details
Upload the required documents
Start trading
Pocket Option deposit and withdrawal method in Thailand
The Pocket Options offers different payment methods for deposit and withdrawal. There are electronic methods such as credit cards, cryptocurrencies, and electronic wallets. The minimum deposit is $ 50, and there is no deposit fee. Furthermore, in most payment methods, there is no withdrawal fee.
Make sure you understand the requirements:
No fees for deposits
No fees for withdrawals
minimum deposit is $50
The minimum withdrawal is $10
Minimum withdrawal amount is $ 10. Withdrawal is made very quickly. In our experience, withdrawals are made within a maximum of 3 days. We were withdrawn within 24 hours without any commission. Therefore, we can say that pocket options are taking away 100% of your earnings.
Pocket Option withdrawal proof:
In the picture below, you can see two of our withdrawals in 2019. It was created through Bitcoin, So withdrawal is quick and safe. In addition to our recall, we have researched this topic. And we haven't found anything about withdrawal issues with this broker. So, make money on the platform and withdraw directly.
Facts about the deposits and the withdrawals with Pocket Option:
Instant deposits via electronic methods
Credit Cards accepted
No deposit and withdrawal fees
Cryptocurrencies
Electronic wallets
Withdrawal within 1 -3 working days
Bonus for the deposits
Pocket Option offers a variety of bonuses to the traders. A popular bonus is the deposit bonus. You can get extra money as a bonus for your deposit. That means you deposit $ 500 amount on the platform and activate the 100% bonus. As a result, you now have a $ 1,000 balance in your account. This is a great way to increase your account balance and trade with more risk.
But you have to read the bonus terms. You need to have a turnover of more than 50x to get the bonus. It depends on your trading volume. You can activate the cancellation bonus at any time.
Professional support system and service for investors
The last point to check a trustworthy online broker is support and assistance for traders. This is significant for new or advanced traders. The support option is available in different languages ​​via chat, email, or phone. You get access to it 24 hours a day on a regular working day. Also, you can chat with other traders on the trading platform.
There is a wide range of frequently asked questions for new traders, and there are many trading tutorials via video. As you can see in the picture above, the pocket alternative learning center is huge. Above all, Pocket Alternative provides professional support for traders. If you are a beginner, you will gain access to many trading knowledge and improve your trading from our experience, services, and education at a professional level.
Facts about the support system and service of Pocket Option:
Phone, email address, chat support
FAQ with the most asked questions and queries
Tutorials for learning about  trading
Some of the Trading strategies
Short tips and tricks
Professional service system and support in different languages
Is Pocket Option a trustworthy broker? – Conclusion of the review:
We think, yes
From our experience of reviewing Binary Options Brokers, we recommend that Pocket Option Thailand is a reliable broker for online trading. The overall rating is 4.8 out of 5 stars because an authority lacks proper rules, but the platform seems safe and secure for deposits and withdrawals.
You can trade in over 100 different markets with high payouts of up to 95%. Executing trades on Pocket Option platform is very fast. We've examined real money transactions and withdrawals, as you've seen in the review section above. Pocket option Thailand is an excellent option for trading short-term or long-term options. The software is available for all devices. Pocket Option iOS App and Pocket Option Android App.
Also, the platform provides lots of unique features and tools for traders. For example, you can analyze professional charts using indicators or drawing tools. Social transactions ­­­­­and signals are also available. In conclusion, we can recommend pocket options as a reliable online broker to trade with high return potential.
Advantages of Pocket Option:
A secure and safe platform
Minimum deposit only $10
Free demo account with $1000
More than 100 different assets
24/7 trading
Higher profit of up to 95%+
A comfortable platform for any device
Multi-language support
Cashback program
Bonuses
Disadvantages of Pocket Option:
Not yet regulated by any Government regulators.